Kodak Moments of Our Charity Trips & Community Projects
Singaporean Footprints left in Northern Thailand since 2006. Our focus are School Community Projects building Student Dorms, Nursery, Canteen & Toilets. Before commencement of projects, we do a 'due diligence' to ensure our 'hard earned' fund will be channelled to the needy children / community. With each completion, we made trips (Pay-Your-Own) to visit them as well as the old projects to ensure that they are being utilised & maintained plus bringing needy items for distribution.
26th Charity Trip 2019 Jun 22-24 : The Singaporean Community in Bangkok doing our 'bit' returning to society in Northern Thailand where we completed our 39th - 41st School Community Project as well as bringing needy stuff for distribution to Hill-tribe students & villagers. 8 of us (Robin, Aileen, Cindy n son, Eden and Mary, Tony and Anna) contributed not just money, but also the effort to help the needy in the villages and schools in the remote part of Chiangrai outskirts.
14 travellers (Robin n Family, Aileen n Lulu, Tony n Anna, Cindy, Gong Bo n Wife, Eden n Wife, Shirley n Wolfgang) came together for this Outreach Mission to the North of Thailand. Officiating our 38th School Community Project - refurnishing a nursery in Thoeng - Koon Ta Nursery in Wiang Kaen District costing 100k THB, as well as distributing needy stuffs to 4 schools & a hill tribe village. It's been a wonderful 3d2n giving out not just stuff, but also sharing our love to these underpriviledged.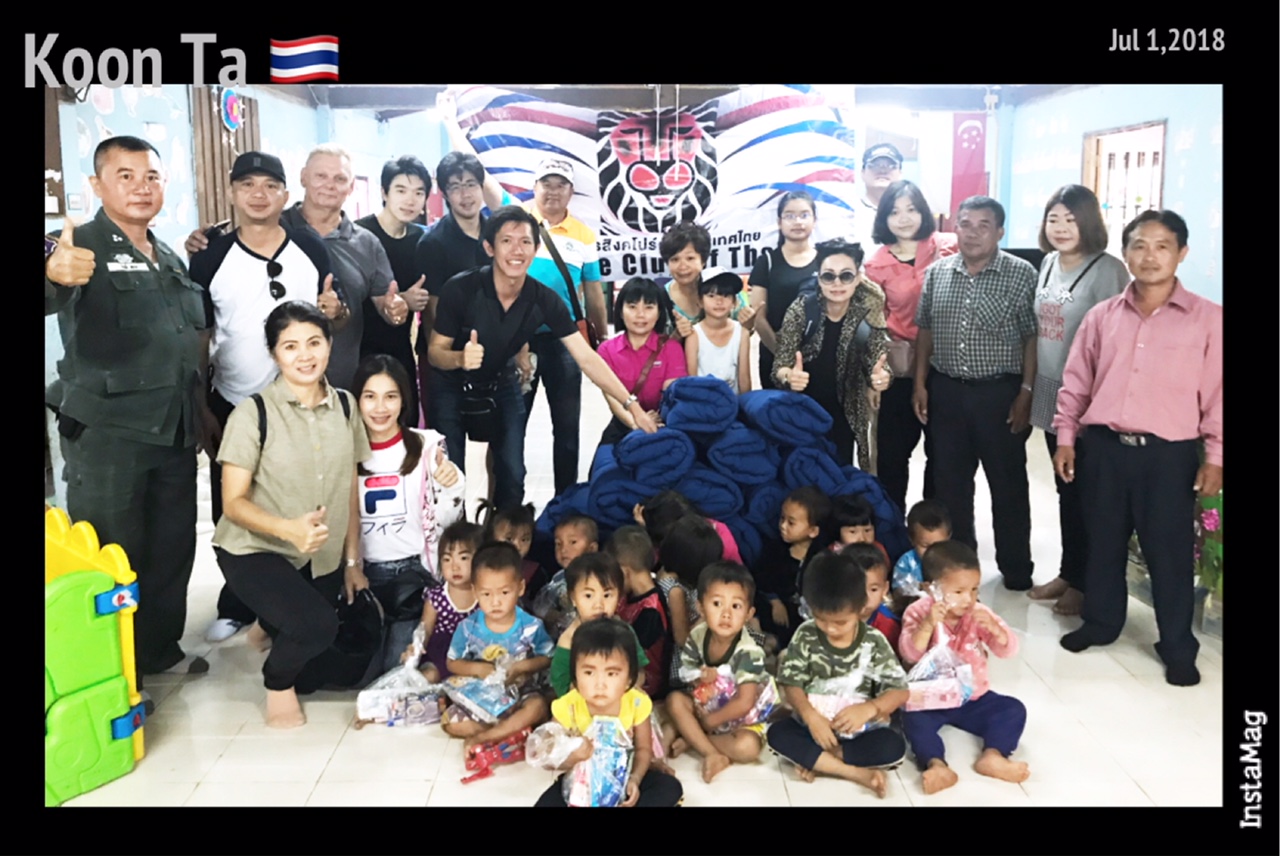 A total of 11 of u (Aileen, Robin, Tony and wife Anna, SK and 2 daughters, Cindy and Hongping, Crispin and Mingjiang) went for this June 2018 trip up north to Chiangrai and Phayao. Luckily the rain didn't fall during while we were there and weather has been rather kind to us. We visited Baan Koon Ta and the nearby village to check for the possibility of doing a project there, and also gave out distributions to the kids and the villagers. We also went back to Baan Koon Huay Khai to officiate the opening ceremony for the completion of the kindergarten building that was being renovated. All in all, it had been a soul fulfilling trip for all as we continue to do our charity projects in this part of the world. Thank you all!
On the 4th April 2018, SCOT arranged for Baan Fueng Faa 32 Children and 19 Helpers to go to Sealife Bangkok Aquarium at Siam Paragon. Thank you so much to our sponsor Ms Slyvia for the entrance tickets and also Ms Lulu Seah for the tour bus pick up transport from the Home. We also have about 8 SCOT members and their friends who joined together for this memorable trip, and certainly made a positive impact to the under privileged children of the Home. Thank you all , not forgetting Macdonald's , who sponsored lunch at Mac for the children and the helpers. Well done to all!
Times just flew by ... we are already into our 23rd Trip to Chiang Rai with 34th & 35th School Community Project built by SCOT up North.
The Road Less Travelled .. on mud track, rocky hilly slope, bumpy ride up & down the windy ranges to the mountain schools & villages.
Baan Nong & Baan Hoon Hui Kai
Phiang Luang School 16
Baan Rom Poh Thai & Laotakao
Chiang Kian School
Travelers : Robin, Aileen, Pansy, Cindy, Darius & Angeline with her family.
It was one of the toughest trips we made. Nevertheless it was a blessing to be able to give & see the happy villagers' smiles. Till our next trip ..
 
Our 2 nite 3 day 'soul fulfilling' trip to helping the 'Have Nots' with fellow countrymen & frens (Aileen, Andrew, Darius, Alan & Mindy, Wolfgang, Cindy & Julia). We brought with us - Sweaters, socks, canned fish, tooth paste, tooth brushes, detergent, instant noodles etc. & stationery (costing Baht 55k) as well as old clothings.
18.06 (Sun) : We hit the road to Chiang Khong for distribution to the villagers of Baan Ving Mog. There after, we agend to Huay Sor Vittayakom to visit our 33rd project in the making where we sponsored the retrofitting of 4 student dorms. Distribution were made to needy students.
We left for Wieng Kaen, up the rolling mountain ranges & trekked up Phu Chi Fa for the sunset with a overnite in Phratang.
19.06 (Mon) : After a simple porridge breakfast, we left for Baan Pamdinthong School in Thoeng to officiate our 32nd School Project - Toilets Facilities. Distribution was done in the school & we were given another project for consideration.
Thanks for supporting SCOT's Social Investment. We hope to continue our mission to leaving more SG footprints in Northern Thailand whenever possible.
It's always a blessing to be able to give ....
A 3 D/2N Chiang Rai trip of over 500 km to Mae Suai (bumpy mud tracks), Wieng Kaen & Thoeng to visit our 27th Project - Toilet Facilities completed early 2016 & to do 'due diligence' of 32nd Project before building etc.
Though tiring, it was worthwhile & 'soul fulfilling' as felt by 11 travellers (Robin, Pansy, Aileen, Vincent, Esther, Darius, Ladda, Sai, Kit, Mimi & Ken). We were rewarded by the smiles & joy on the faces of the villagers & children with the little that we brought.
We purchased sweaters, socks & children T-shirts worth Baht 90k & brought with us the donated UFC canned food & stationery plus old clothing etc. for distribution.
Day 1 : Evening departure for our charity mission.
Day 2 : Alamak !! The new sweaters & socks did not arrive as the supplier had sent via EMS. These will be given to the Akha headmen of Baan Huai Nam Kluen & Joo Che for distribution to the 216 families.
Day 3: Visited 5 schools for potential projects (toilets, playground etc.) on rolling mountain ranges. Will decide after getting their formal proposals.
Dawn of 16.01 - 7 of us went to Phu Chi Fa to catch the sunrise & were blessed with a clear day to witness the amazing sight plus to see the famous blooming Thai Sakura still in season though 1 week too early.
Big TQ to our members & frens who support SCOT's
social investment in Northern Thailand 🇹🇭. We hope to continue this journey & do more in the land where we earn our keep.
谢谢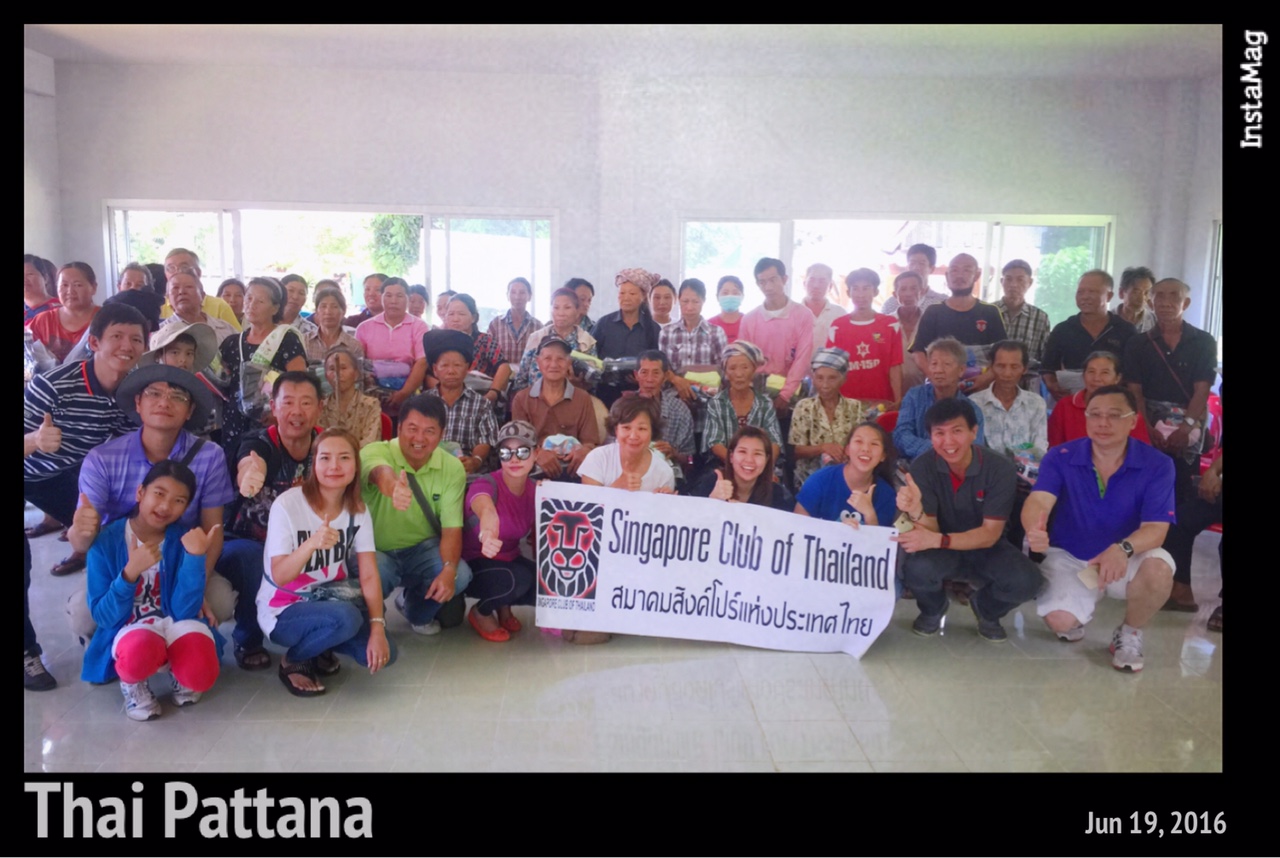 12 of us (Aileen, WS Koh, Benny + Fiona, Robin + Kwang, Alan + Mindy, Tony + Anna, SK + Kai Yen) took off to the mountaineous region of Wiang Kaen & Phayao, for a 'social investment mission'.
It was an enriching & 'soul-fulfiling' 3 days journey helping the 'have-nots'. With the trip, we brought along needy items worth over Baht 70k (Canned fish, Sweaters, Socks, Stationery, Snacks, Towels, etc. etc.) for distribution in 2 hill-tribe villages & 2 schools. We were so blessed with fine weather while it rained cats & dogs in BKK.
We officiated our 30th & 31st Project - a student dorm (Baht 400k) for the girls in Chiang Muan Vittayakom, Phayao & toilet facilities (Baht 200k) in Ra Pakdee School, Thoeng. These were made possible with your continuous support to our School Community Projects.
SCOT will continue leaving more Singaporean footprints in Northern Thailand whenever possible ....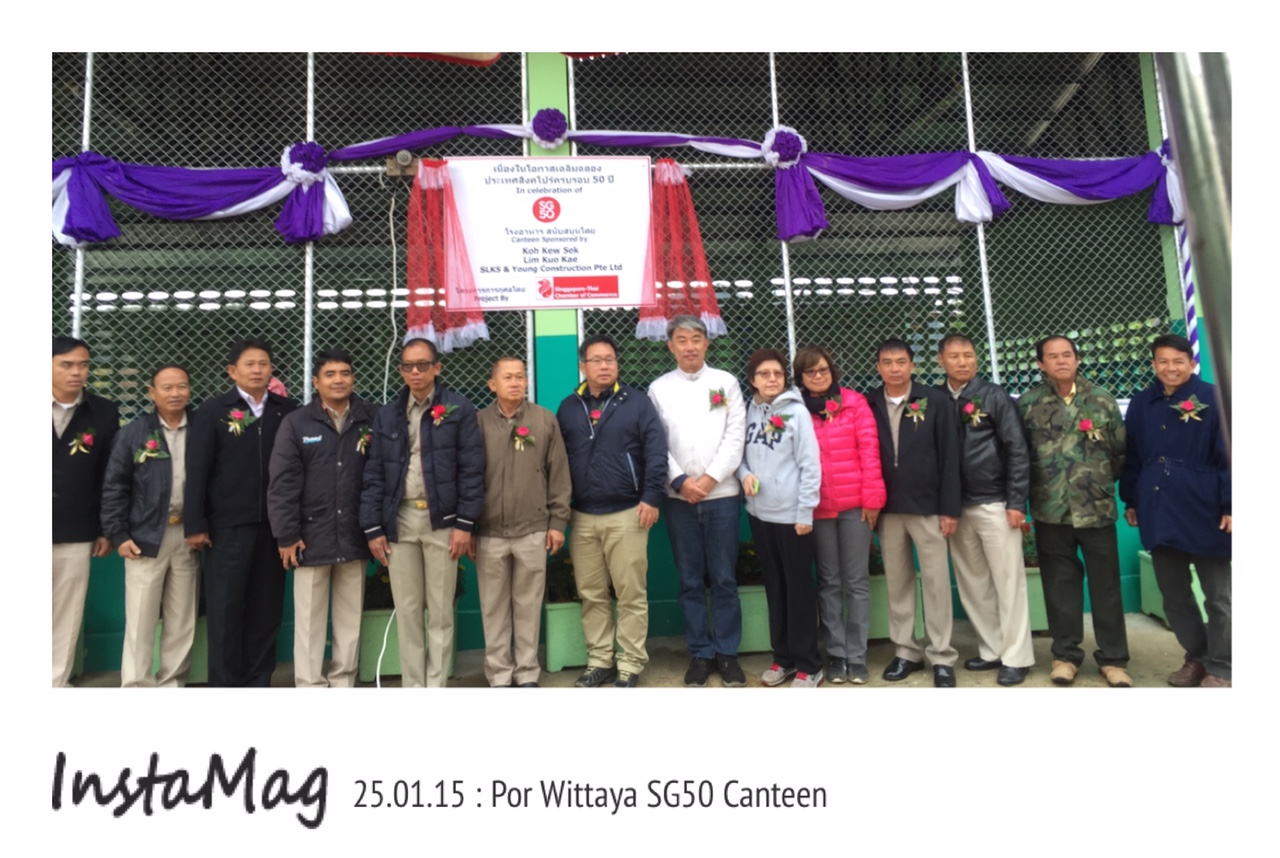 7 travellers (Pansy, Aileen, Koh, Siew Hwei, Wendy & Kuo Kae) came for this impromptu enriching journey helping the 'Have-Nots' We brought with us Baht 50k of stuff for distribution to 2 villages & officiate the opening of the SG50 canteen in Por Wittaya School. We encountered rain on Sunday while distributing at Baan Huai Han & the howling wind in the evening in Phatang, Wieng Kaen. It was the coldest trip for us ever as the temperature drop to 1 degree Celsius & tasted the hardship of these hill-tribe villagers who have to live with the elements.
Dec 10-12 : A joint STCC-SCOT Charity trip to the North with 12 travelers - Pansy, Lock Soon, Aileen, Jacqueline, Hui Qi, Steven, Susan & 4 SG guests. It was an tiring & enriching 3 days trip to the souls helping the have-nots on rolling mountain ranges to Phayao & Wieng Kaen visited a kindergarden, 2 high schools & several villages for distribution.
We officiated a SG50 student dorm for the boys in Chiang Muan Vittayakom as well as a toilet project at Nongrad Suan Pattana Dek Lek.
It's heartening to see the joy of thanks from the little we brought (stationery, sweaters, socks, towels medicine, snacks & old clothing etc.).
A great mission to end 2015. We hope to do more in the new year with your support & participation.
Cheers!! Aileen
16 travellers (1st timer : Robin, Yvonne, Wendy, Tony, Alan & family, SK & daughter; repeat travellers : Simon, Benny & family, Pansy & Aileen) came together for this 'soul-fulfiling' trip & 3 almost could not make it as they missed the plane. It was a tiring 2 days travelling (hot too) to the mountainous Wiang Kaen region & we brought along Baht 94k worth of stuff for distribution to 3 villages (Yusuk, Lee Suk & Nongtou) as well as 120 selected poor students from Panghud & Trimitr School. On Monday 22.06, we visited the 3 completed projects - 2 toilets facilities & a H02 Filtration System (Project No. 24-26) built for Baan Fa Tai Ngan Border Police School (80 students) & Trimitre Vitayakom (260+). We were impressed with the change made by BFTN Border Police School to improving the surrounding areas around the school & crops (egg plants, coffee beans. papaya etc.) grown by students since our last visit in Nov 2014. The journey was eye-opening for some who joined for the 1st time, we all felt Blessed to be able to Give & Help the 'Have-Nots'. At the end of the trip, 3 travellers have become 'pocket money' sponsors too ... Until our next School Community Project (we were given some during this trip) - the Best Is Yet To Be.
13 travellers (Pansy, Aileen, Benny & family, Thomas,Thamathat, Gina, Siew Hwei, Caroline, Jia Jia & Kit Peng) came together for this 'social investment' journey travelling over 1000 km on rolling mountain ranges through the provinces of Phayao & Chiang Rai. We brought with us over Baht 100k of stuff (stationery, sweaters & socks) as well as old clothes etc. for distributions to the minorities hill tribe villagers (Yao, Hmongs & Lisu) & needy students. Though a tiring 4 days 3 Nite trip, it was indeed enriching experience for all.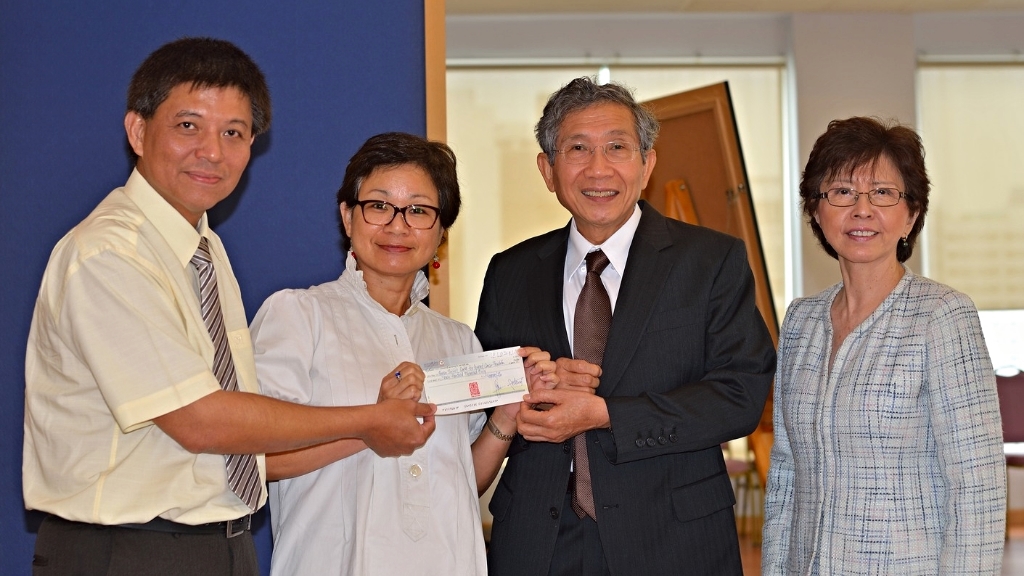 Beside having Fun & Makan, we also channel our energy to help the 'Have-Nots'. Returning to Society in the land where we earn our keeps. We had since 2006 raised over Baht 5 millions (S$ 220k) for these projects. These had been made possible with the support & generosity of members & frens. Khon Khun Ma ka.