Kodak Moments of Our Golf Meet
We love 'chasing' the little white ball Where Pleasure Meet Challenge with Good Food & Great Company.
Thailand is a Golf Paradise with beautiful golf courses & golfers are spoilt with choices & pamper by caddies to lookout for our wayward balls. No need to carry our clubs, repair divot etc. etc. !!
Our golf participation has grown by 'leaps & bounces' from the early days of under 20 players to presently over 50 players. We are grateful to members for their support as well as bringing frens to join us for the Golfing Fun & making this a Great Success :)
For the very first time, we held our 72nd Golf meet at Suvarnabhumi Golf Club on the 2nd Feb 2018, just before the many Singaporeans heading back to Singapore for the Chinese New Year. 71 Players turned up for this event which we greatly appreciated all of them for the support given to SCOT Golf Meet (headed and organised by James Bay). All had fun and laughter, with the good buffet food and prized awaiting end of the day. Till we meet again for the 73rd Golf Meet in Jun!
A very successful turnout of players for our 71st SCOT Golf Meet, being the inaugural golf meet by our new organizer James Bay, 62 players chased the little white balls around the green on a relatively good Saturday noon time. With the attractive sponsorship prizes and the 'eat until shiok' buffet dinner, all of us enjoyed this 71st Golf Meet to our hearts' content. We also raised quite a fair bit of donation for charity through a series of auctions, 'birdies' doners, hazard penalty doners etc, all in the name of charity, and fun. Let's continue to strive harder to make SCOT golf meet an exciting event on every golfer's calendar!
It was a wonderful Sunday with 32 players, with our first organisation without Aileen involved. Thank you all players for your participation and great thanks to the sponsors (Tiger beer, UFC, Bearing Specialists, Cuegolf, Taylormade, CMi, & Dusit Princess) for the prizes.
Last but not least Simon Khoo for the golf vouchers which raised some fund to our community projects.

Hope all of you enjoy today's game with the wonderful weather. C you guys next game :) Cheers !!!
Yet another great turnout of 51 players despite playing hide & seek with the rain twice after every 5 holes. There were moments that we thought that it will be washout due to the unpredictable weather with thunder & scary lighting flashing. Shoes soaked & gears wet - we 'died hard golfers' continued our game after some delays 😂😂😂. Many thanks to our sponsors for the freebies. Larry of Tiger Beer, Francis of UFC, Andrew of CMI, Andy of Cue Golf, Aileen & Benny. Until our next ⛳️ at Kiarti Thanee on 06.08.17 .... be seeing U.
It was a blazing hot day and the 44 golf players in 12 flights must have lost about 25 kg of sweat or more on the fairways and the super fast greens that killed many of our game. Still, we had great fun and good company and the many happy faces at the dinner said it all. We had lots of prizes for this meet - Beers, UFC Coconut Drinks, Golf Towels, Caps & Dusit Thani Hotel Voucher plus SCOT logo golf balls. One highlight was the wonderful 5 kg bag of Export quality Jasmine Rice (Thai Hua) for each player - thanks to special arrangement by Simon Khoo with the Sethiwan Group. An AIS golf bag was auctioned to Aya Tan for SCOT's school community projects for Baht 5000. Many thanks to our sponsors - Larry Lee, Edmond Neo, Francis Foo, Stanley Lo, Benny Lim & Andy Cheng for these prizes. See you on 4th June at Krung Kavee!
A great turnout for the 1st golf meet of 2017 with over 50 players. All were given freebies - 1 tube of golf balls & a packet of UFC coconut drink 😜. We do our best to make everyone happy.
It was such a blessed golf day - cloudy & windy with a splash of rain. Nevertheless we had great fun with many good scores.
We ended the day with an exciting auction of AIS golf bag (sponsored by Benny) between Tony & Loo - which raised Baht 8k for our 21st Charity Trip. Thanks Tony for this 🙏
Last but not least our BIG TQ to our trophies & prizes sponsors - Alson & Andy, Larry - Tiger Beer, Francis - UFC coconut drinks, Stanley - dinning vouchers as well as Raymond Foo for the brownies as desserts.
Until our 68th Golf Meet - 19.03.17 @ Rachakarm. Be seeing U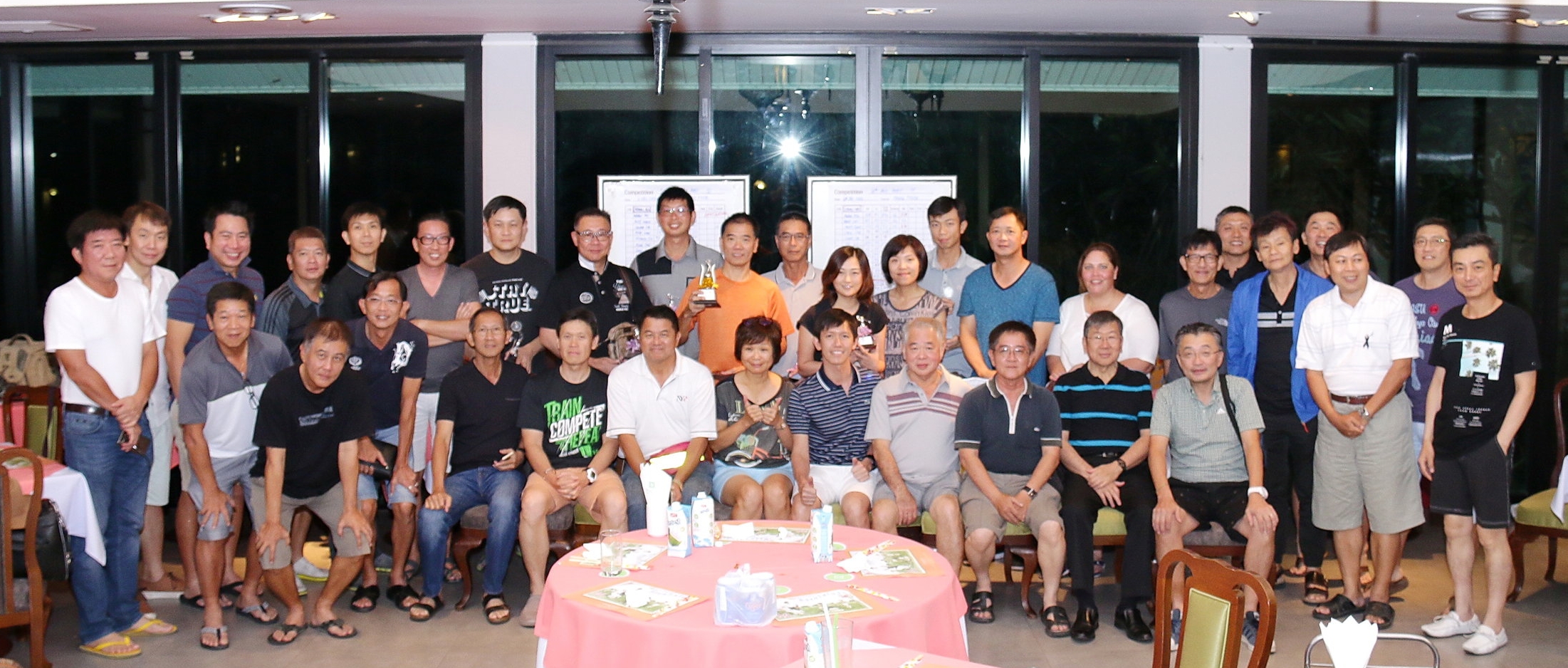 47 players (with many guests too) came for this last golf meet of 2016. We were expecting cool ⛳️weather but was it humid & hot !!!
Despite the heat, many scored well for the game with sub par results. The food was great & the company even better. A minute silence was observed for the passing of Rama 9 - King Bhumibol Adulyadej. Many thanks to our sponsors for the team prizes Larry Lee - Tiger Beer; Francis Foo - UFC Coconut Drinks; Andrew Tay - cookery book & Lee Kiam Meng - brollies. Last but not least our trophies sponsors - Alson Tan of Bearings Specialist & Andy Cheng of Cue Golf who will continue their sponsorship for 2017 (hooray🙏).
Until we meet again in the 2017 - 8th Jan @ Vintage, be seeing u.
Wow ... one of the biggest turnout with 57 players for 2016. It was an over casted & super humid day after the heavy rain last nite. No complains as its rainy season now. We had a mini shot gun playing from Hole 1-7 with 15 flights. Many played well with some red numbers & we had a tie which a count back was required to determine the Medal C Winner. Many thanks to our sponsors - AIS, Tiger Beer, Andy, Suchart & James for the Team prizes. Until 30.10.16 - last Golf Meet of 2016 .. Be Seeing U
Wow a great turnout of 50 players in 13 flights for this meet - many new faces too. As the rainy season had started, we were lucky to have sunny weather for the game. The threatening rain only came during dinner time. Many thanks to our sponsors (Aeroflex, Tiger Beer & Dusit Thanee Hotel) for the lucky draw prizes as all went home with something.. Be seeing U on Aug 28 at our next golf meet ..... & join us chasing the little white ball ok ....:)
It was a super hot golf day with 40 players (including 5 guests). Alamak !! felt like Songkran came early & we needed water to cool down. Scores went North !!! Nonetheless, we had fun chasing the little white ball in great company. We had a tie for Medal B & C as count back were required to determine the winners. Many thanks to our sponsors for the lucky draw prizes : AIS (Benny) Canon (Alan), Tiger Beer (Larry) & Champion (Jacqueline) for this golf meet. Be Seeing you at Royal Golf on 5th June .....
It was a great day of golfing fun with fellow Singaporeans & frens for the 1st Golf Meet of 2016. 48 players including 13 guests participated, of which 6 became SCOT members. Breezy day in the front 9 but was super hot coming home with only 4 playing below par. Our thanks to Alson Tan of Bearings Specialist for sponsoring the Medal Trophies for 2016, Andy Cheng of Cue Golf for continuing the sponsorship of Best Gross & Larry Lee of TAPB for the Tiger Beer. Last but not least, Chua Tong Guan of Fuson (umbrellas), Lulu (massage vouchers) for the lucky draw prizes for this meet as well as Alan Chng of Canon for the camera which we raised Baht 5,500 for our School Community Projects in Northern Thailand. Till our next golf meet on 20.03.16 at Kiarti Thanee. Be Seeing You!
We had a great turnout of 50 players including 14 guests for the last Meet of 2015. It was a hot & sunny day with strong wind where we saw only 2 'red' numbers at the scoreboard. Nevertheless we had great golfing fun with goodies bags for all as well as lucky draw prizes for a handful few. Until we meet in 2016 . Be seeing you ...
42 players (including 10 guests) came together had great golfing fun. We were so blessed with a fine golf day (golfers' luck). Though hot & humid, we were not complaining as it was heavy downpour the last 3 days with Tyhoon Vamco on the rain path across S.E.Asia. Our Golf Meet is about connecting people .. 2 guests - Kevin & Looi reunited at this meet after army days (must be over 20 years ago !!!). The golf meet ended with a surprise birthday celebration for one member too. All left with goodies as well as SG50 giveaways. Until our next meet - be seeing you. Thanks for your great support making this a Great Meet :)
We had a wonderful golf day without the sun playing on a super long course. Our group of 37 with a very international presence of Singaporeans, Malaysian, Thais, Australian, British, Canadian, Dutch, French, Japanese & New Zealander. Indeed very blessed as the rain came only during dinner time after the game. Many thanks to our sponsors for the prizes (Boston bags, Golf Caps, Tiger Beer, Peach Tea & Magnolia Ice Cream) & the great support from members bringing frens to participate our Golf Meet. Until our next meet at Vintage on 20.09.15 ... Be seeing U....!
A super HOT golf day with 41 players including 10 guests. We were almost 'fried' by the heat as our scores went North. All were tricked by the sticky rough, slow & fast (alamak!!!) green which 'messed' up scores. Despite these, as always we had fun & camaraderie at our Golf Meet with the great support from our sponsors when most players went home with the SG50 pin & umbrellas etc. Many thanks to them for the prizes - AIS, Tiger Beer, Aeroflex, Foot Master, CUE Holidays & CFT Engineering. Until Next Meet in July .. Adios
The 1st event in celebration of SG50 together with SingaporeThai Chamber of Commerce in Bangkok. We have over 110 players. It was with heavy hearts that we proceeded with the event as SG is in mourning (Mar 23-29) with the passing of Mr Lee Kuan Yew, our Founding Father. The event turnout to be a tribute to LKY with many signing on the SG Banner in memory of his great foresight, moving our nation from 3rd world island to 1st World Oasis. Many thanks for those who came & sponsors who contributed the prizes, making this event a success. Hokkien Mee & Bakuteh were especially ordered to satisfy the foodies.
We were blessed with a balmy golf day. 51 players (including 7 guests) in 13 flights came together for the 1st Golf Meet of 2015 with Canon sponsoring great photo shots before we started our game. 1st time ever, we had a mini shot gun Toff on 6 holes as arranged by Andy. Many scored well with 'sub-par' numbers too and left with memorable moments of today's golf meet. We raised Baht 6.3k for our School Community Projects from the Canon products (TQ). Hope to see you at SG50 Golf Meet 25.03.15 in celebration of SG's 50th Birthday ..
37 players in 9 flights for the last Meet of 2014. Alamak !!!! we had many cancellation & was wondering WHY ??? then we realised it was SG's public holiday (Hari Raya Haji) & many have frens in town!!! Nevertheless, we had Great Fun & Camaraderie. It was a HOT day with some rain, many scored well on the front 9 but were 'killed by the sapping heat' on the back 9 as scores went North. All players were given a toiletry bag sponsored by CFT Engineering. Last but not least our thanks to Alan Chng of CANON for sponsoring a printer & digital camera which raised Baht 5,200 for our Charity Project.
We were 'So Heng' ... No Rain :-) .. a wonderful but humid golf day with 59 players. Some came in our national colour in celebration of SG's 49th birthday. Those who wore some red were rewarded with a button from the 'NDP Funpack 2014'. Besides the usual lucky draw prizes, all were given SCOT's 30th Anniversary Gift sponsored by MGL.